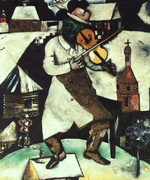 &nbsp
The Fiddler (Tutte Lemkow; see below) is probably the second most famous of the characters in the production, but little is known about him. He was the basis of the movie's name, and he is seen in various times through out the production. He was inspired by Marc Chagall's painting, The Fiddler, which depicts a fiddler on a house's rooftop. He plays in Main Title, Entr'acte, and Finale.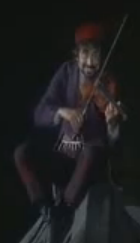 It is not known whether the Fiddler is actually a real human, or just a figment of Tevye's imagination. The Fiddler has some mystery surrounding him, as he is never seen by the others-on the roof, following Tevye to New York, or just after the Russian Official tells Tevye of the pogrom.
Tutte Lemkow
Edit
Tutte Lemkow was born in Oslo, Norway, as Isak Samuel Lemkow, on Aug. 28, 1918. He was an actor and dancer, and he can play the fiddle, as seen in Fiddler on the Roof. He has been in 38 movies, the 30th of them is Fiddler on the Roof. He was married to Swedish actress Mai Zetterling from 1944 to 1953. Etienne is his daughter and Louis Lemkow (professor of evironmental sociology at the Autonomous University of Barcelona) is his son. Tutte and Mai divorced in the mid-1950's, and in 1954, Tutte married dancer Sara Luzita and had two daughters, Rachel and Rebecca.
Community content is available under
CC-BY-SA
unless otherwise noted.